Here is an approximate of tuition based on 15/18 weeks. For exact fees go to Customer Portal and our program will calculate it exactly. Taking into consideration holidays and performance black out days!)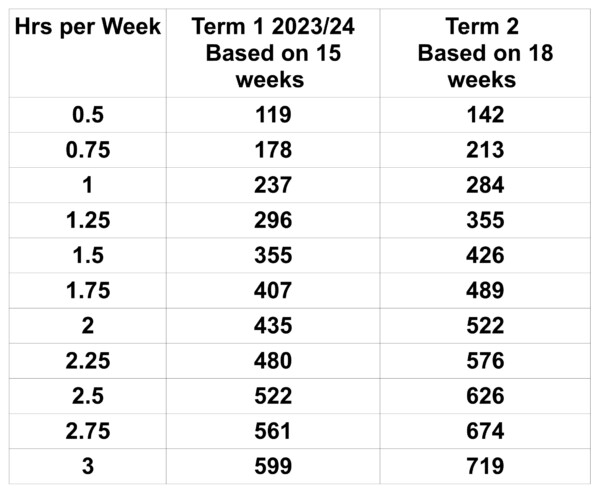 Term 1  September- December  / Term 2   January-June
Payment methods:  Credit Card, Post-dated Cheques or Cash.  All fees plus HST
Highest family tuition (full rate), additional dancer(s) discounted 10%
$45 Registration Fee processed by credit card upon registration (non-refundable).  ONLY the Registration fee will be charged at time of registration.
$25 Administrative Fee for alternate payment plans (per family) – Student accounts must be up to date in order to register for the next term. Contact Administrator for payment plans.  
$25 service charge  for dishonoured payments.
$50 Annual Recital Fee (per family) + $25 Costume rental per class  due in January with 2nd term payment    SHOW DATE:  end of May early June  2024  No Tickets Free unlimited family admission. 
$50 Character skirt & shoe rental (Ballet Grades 1-5) $25 Deposit refund when Skirt and shoes are returned at end of May.
$50 Youth Performance Classes : Payable to Coastal Dance Theatre Society Mid September 
WEATHER CANCELATIONS:  Announced on Website home page, Instagram & email by 2:30pm on weekdays & 8am on weekends. We do not coincide with school cancelations. Storm days will not be made up as it is an unforeseen event. Some days are already blacked out due to Performances and Holidays.
REFUND POLICY: Non-attendance is not notice of withdrawal.  Tuition is due  & payable the first day of each term.  Class sizes are limited so please review your class commitments.   A withdrawal email MUST be sent to administration  admin@coastaldance.ca by a guardian.
MISSED CLASSES: You are welcome to make up all missed classes in any style at your level.
 Administration:  in person administration must be pre arranged by contacting Mrs. Keating:  admin@coastaldance.ca 
JUNE, JULY and AUGUST please contact us by email : director@coastaldance.ca   or  admin@coastaldance.ca
In the case of Government regulated shut downs there will be no refunds for classes. Classes will resume on a condensed Zoom schedule. In the case of an extended closure we will do our best to make up classes at a later date